Software to Open and Edit VCE Files
VCE Exam Simulator
VCE Exam Simulator BASIC
Lets you open VCE files excellent interactive exam simulation supports all current question types
VCE Exam Simulator PRO
Create practice exams or edit any VCE file.
Get Started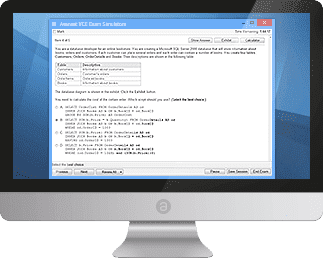 VCE Exam Simulator
for Mac
Play VCE files on your Mac and get a real interactive exam experience.
Learn more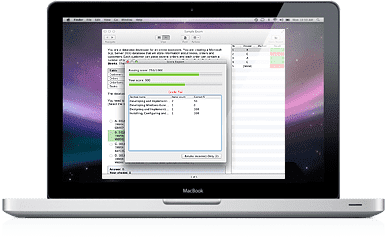 VCE Exam Simulator
for Mobile
Practice on your Android/iOS device no matter where you are. Go VCE mobile!
Learn more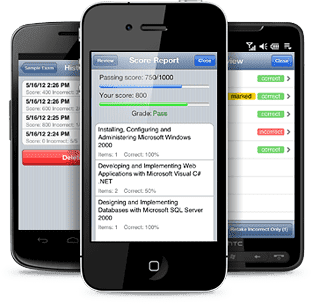 VCE Exam Simulator
Software specially developed to open and play VCE practice exams.

VCE Player for Mac
Open VCE files on your Mac

VCE Mobile
Play VCE exams on your Android and iOS devices
VCE Exams:
Reliable Learning and Exam Training Solution
Software for Editing and Creating VCE Exams
What is VCE?
VCE is a file format, and the acronym itself means Visual Certification Exam. VCE files are inseparable from Visual Certification Exam Software.
VCE technology, which combines VCE files, VCE Software and VCE Test Engine, is the most popular tool for computer-based exam preparation, as well as e-learning in general. VCE exams are most popular with IT professionals who use them for certification exam preparation, however, they are also used in a variety of other fields.
Why are VCE Exams and VCE Technology so popular?
Many users choose VCE exams dumps as their top preparation tool since this technology reproduces the exam environment, identical to what candidates face during their actual exams, on the computer or mobile device. As VCE practice exams are often packed with authentic certification exam questions, they fully prepare students for their exams - both in terms of the information learned and the interactive exam experience.
VCE Testing Engine and VCE Exams are widely used by:
Explore how you can download VCE Software and benefit from this revolutionary learning tool.
Free VCE Files
| Name | Exam | Posted |
| --- | --- | --- |
| Microsoft.MB-230.Realtests.v2023-11-23.62q.vce | MB-230 | Nov 23, 2023 |
| Microsoft.AZ-500.Examsnap.v2023-11-18.159q.vce | AZ-500 | Nov 18, 2023 |
| Microsoft.SC-900.Testkings.v2023-11-13.44q.vce | SC-900 | Nov 13, 2023 |
| Microsoft.AI-900.Train4sure.v2023-07-12.61q.vce | AI-900 | Jul 12, 2023 |
| HP.HPE6-A82.Passguide.v2023-07-12.28q.vce | HPE6-A82 | Jul 12, 2023 |
| HP.HPE6-A72.Prep4sure.v2023-06-10.51q.vce | HPE6-A72 | Jun 10, 2023 |
| SAP.P-C4HCD-1905.Braindumps.v2023-05-25.36q.vce | P_C4HCD_1905 | May 25, 2023 |
| Dell.DES-6322.Actualtests.v2023-05-22.25q.vce | DES-6322 | May 22, 2023 |
| IBM.C1000-018.Pass4sures.v2023-05-18.26q.vce | C1000-018 | May 18, 2023 |
| Salesforce.Certified-Platform-App-Builder.Passguide.v2023-05-06.257q.vce | Certified Platform App Builder | May 06, 2023 |
| Amazon.AWS-Certified-Data-Analytics-Specialty.Selftestengine.v2023-04-02.68q.vce | AWS Certified Data Analytics - Specialty | Apr 02, 2023 |
| Citrix.1Y0-312.Test-king.v2023-03-24.67q.vce | 1Y0-312 | Mar 24, 2023 |
| Microsoft.PL-100.Test-king.v2023-03-20.78q.vce | PL-100 | Mar 20, 2023 |
| IIBA.CBAP.Test4prep.v2023-01-12.286q.vce | CBAP | Jan 12, 2023 |
| Dell.DES-DD33.Test-king.v2023-01-12.23q.vce | DES-DD33 | Jan 12, 2023 |
| CompTIA.FC0-U61.Passguide.v2023-01-12.96q.vce | FC0-U61 | Jan 12, 2023 |
| Python Institute.PCAP.Braindumps.v2023-01-12.43q.vce | PCAP | Jan 12, 2023 |
| Microsoft.PL-200.Train4sure.v2023-01-12.56q.vce | PL-200 | Jan 12, 2023 |
| CompTIA.220-1002.Certkiller.v2023-01-11.248q.vce | 220-1002 | Jan 11, 2023 |
| ECCouncil.312-50v11.Braindumps.v2023-01-11.175q.vce | 312-50v11 | Jan 11, 2023 |
| | | |
| --- | --- | --- |
| Microsoft.98-349.Braindumps.v2023-01-11.132q.vce | 98-349 | Jan 11, 2023 |
| Microsoft.MB-210.Actualtests.v2023-01-11.104q.vce | MB-210 | Jan 11, 2023 |
| Microsoft.MS-500.Passit4sure.v2023-01-11.110q.vce | MS-500 | Jan 11, 2023 |
| Microsoft.98-366.Passguide.v2023-01-10.114q.vce | 98-366 | Jan 10, 2023 |
| Google.Associate-Cloud-Engineer.Examcollection.v2023-01-10.106q.vce | Associate Cloud Engineer | Jan 10, 2023 |
| Microsoft.PL-900.Selftestengine.v2023-01-10.86q.vce | PL-900 | Jan 10, 2023 |
| Splunk.SPLK-3001.Passguide.v2023-01-10.45q.vce | SPLK-3001 | Jan 10, 2023 |
| Amazon.AWS-Certified-SysOps-Administrator-Associate.Braindumps.v2023-01-09.28q.vce | AWS Certified SysOps Administrator - Associate | Jan 09, 2023 |
| SAP.E-HANAAW-17.Selftestengine.v2023-01-09.16q.vce | E_HANAAW_17 | Jan 09, 2023 |
| NetSuite.SuiteFoundation-Certification-Exam.Train4sure.v2023-01-09.27q.vce | SuiteFoundation Certification Exam | Jan 09, 2023 |
| CompTIA.SY0-601.Prep4sure.v2023-01-09.106q.vce | SY0-601 | Jan 09, 2023 |
| Checkpoint.156-585.Examsnap.v2023-01-08.32q.vce | 156-585 | Jan 08, 2023 |
| Amazon.AWS-Certified-Cloud-Practitioner.Braindumps.v2023-01-08.427q.vce | AWS Certified Cloud Practitioner | Jan 08, 2023 |
| PMI.CAPM.Certbolt.v2023-01-08.688q.vce | CAPM | Jan 08, 2023 |
| IAPP.CIPP-US.Pass4sure.v2023-01-08.86q.vce | CIPP-US | Jan 08, 2023 |
| Network Appliance.NS0-003.Examcollection.v2023-01-08.24q.vce | NS0-003 | Jan 08, 2023 |
| CompTIA.PK0-004.Selftestengine.v2023-01-08.334q.vce | PK0-004 | Jan 08, 2023 |
| Google.Professional-Cloud-DevOps-Engineer.Test-king.v2023-01-08.28q.vce | Professional Cloud DevOps Engineer | Jan 08, 2023 |
| Palo Alto Networks.PSE-Strata.Selftestengine.v2023-01-08.26q.vce | PSE Strata | Jan 08, 2023 |
| Salesforce.Certified-Platform-App-Builder.Certkiller.v2023-01-07.246q.vce | Certified Platform App Builder | Jan 07, 2023 |
| | | |
| --- | --- | --- |
| Salesforce.Certified-Platform-Developer-II.Braindumps.v2023-01-07.156q.vce | Certified Platform Developer II | Jan 07, 2023 |
| Isaca.CISA.Test4prep.v2023-01-07.1975q.vce | CISA | Jan 07, 2023 |
| Microsoft.MS-600.Certbolt.v2023-01-07.47q.vce | MS-600 | Jan 07, 2023 |
| Fortinet.NSE4-FGT-6-4.Braindumps.v2023-01-07.59q.vce | NSE4_FGT-6.4 | Jan 07, 2023 |
| Fortinet.NSE6-FWF-6-4.Certkiller.v2023-01-07.12q.vce | NSE6_FWF-6.4 | Jan 07, 2023 |
| Microsoft.AZ-500.Actualtests.v2023-01-06.145q.vce | AZ-500 | Jan 06, 2023 |
| Microsoft.MS-100.Certkiller.v2023-01-06.176q.vce | MS-100 | Jan 06, 2023 |
| Microsoft.MS-700.Pass4sure.v2023-01-06.84q.vce | MS-700 | Jan 06, 2023 |
| ITIL.ITILFND-V4.Test-king.v2023-01-05.144q.vce | ITILFND V4 | Jan 05, 2023 |
| PMI.PMI-PBA.Passcertification.v2023-01-05.104q.vce | PMI-PBA | Jan 05, 2023 |
| Microsoft.SC-300.Real-exams.v2023-01-05.48q.vce | SC-300 | Jan 05, 2023 |
| Microsoft.SC-900.Actualtests.v2023-01-05.28q.vce | SC-900 | Jan 05, 2023 |
| Microsoft.AZ-700.Prep4sure.v2023-01-04.29q.vce | AZ-700 | Jan 04, 2023 |
| Microsoft.MB-330.Braindumps.v2023-01-04.110q.vce | MB-330 | Jan 04, 2023 |
| Microsoft.MB-340.Braindumps.v2023-01-04.26q.vce | MB-340 | Jan 04, 2023 |
| Microsoft.AZ-104.Pass4sureexam.v2023-01-03.153q.vce | AZ-104 | Jan 03, 2023 |
| Microsoft.AZ-140.Test-king.v2023-01-03.38q.vce | AZ-140 | Jan 03, 2023 |
| CompTIA.CAS-004.Test-inside.v2023-01-03.60q.vce | CAS-004 | Jan 03, 2023 |
| SAP.C-SECAUTH-20.Actualtests.v2023-01-03.34q.vce | C_SECAUTH_20 | Jan 03, 2023 |
| PRINCE2.PRINCE2-Agile-Foundation.Prep4sure.v2023-01-03.21q.vce | PRINCE2 Agile Foundation | Jan 03, 2023 |
| | | |
| --- | --- | --- |
| Oracle.1z0-1084-21.Exam-labs.v2023-01-02.24q.vce | 1z0-1084-21 | Jan 02, 2023 |
| CompTIA.220-1001.Examlabs.v2023-01-02.267q.vce | 220-1001 | Jan 02, 2023 |
| Nokia.4A0-100.Passcertification.v2023-01-02.208q.vce | 4A0-100 | Jan 02, 2023 |
| Microsoft.MD-100.Selftesttraining.v2023-01-02.145q.vce | MD-100 | Jan 02, 2023 |
| Microsoft.MD-101.Passguide.v2023-01-02.143q.vce | MD-101 | Jan 02, 2023 |
| Microsoft.MS-203.Testking.v2023-01-02.103q.vce | MS-203 | Jan 02, 2023 |
| Checkpoint.156-315-80.Braindumps.v2023-01-01.275q.vce | 156-315.80 | Jan 01, 2023 |
| Microsoft.98-375.Selftestengine.v2023-01-01.62q.vce | 98-375 | Jan 01, 2023 |
| ServiceNow.CIS-SAM.Testking.v2023-01-01.47q.vce | CIS-SAM | Jan 01, 2023 |
| Juniper.JN0-1302.Examsnap.v2023-01-01.28q.vce | JN0-1302 | Jan 01, 2023 |
| Mulesoft.MCD-Level-1.Selftesttraining.v2023-01-01.59q.vce | MCD - Level 1 | Jan 01, 2023 |
| Microsoft.MS-900.Examlabs.v2023-01-01.120q.vce | MS-900 | Jan 01, 2023 |
| CompTIA.N10-008.Train4sure.v2023-01-01.39q.vce | N10-008 | Jan 01, 2023 |
| Microsoft.PL-400.Braindumps.v2023-01-01.76q.vce | PL-400 | Jan 01, 2023 |
| Juniper.JN0-211.Braindumps.v2022-12-31.28q.vce | JN0-211 | Dec 31, 2022 |
| Network Appliance.NS0-175.Examlabs.v2022-12-31.27q.vce | NS0-175 | Dec 31, 2022 |
| Microsoft.AZ-900.Actualtests.v2022-12-30.145q.vce | AZ-900 | Dec 30, 2022 |
| Dell.DES-4421.Prep4sure.v2022-12-30.28q.vce | DES-4421 | Dec 30, 2022 |
| CompTIA.CV0-003.Examsnap.v2022-12-29.44q.vce | CV0-003 | Dec 29, 2022 |
| Juniper.JN0-412.Actualtests.v2022-12-29.34q.vce | JN0-412 | Dec 29, 2022 |